We girls and our hairstyles! They have a lion's share when it comes to making a style statement. The hairdos that we opt for largely depend on the volume and hair type of our hair. Depending on factors like hair color, whether our hair is thick or thin, or curly or straight, we pick a hairstyle that suits us and makes for an apt fashion expression.
One of the many perks of having thick hair is that we can try out different hairstyles which people of other hair types can't! Doesn't that sound amazing? There is hardly anything that can stop us from donning elaborate hairdos and make the others go green with envy. Be it braids, buns, curls or chic short hairdos, there's nothing we couldn't possibly flaunt!
So, without further ado, let's take a look at the 16 best hairdos for thick hair!
1. The Twisted Updo
A fine and graceful hairdo for women with long thick hair. This hairstyle reflects elegance and grace. Perfect for occasions like a friend's wedding or a classy brunch, you can sport this hairdo and steal the limelight!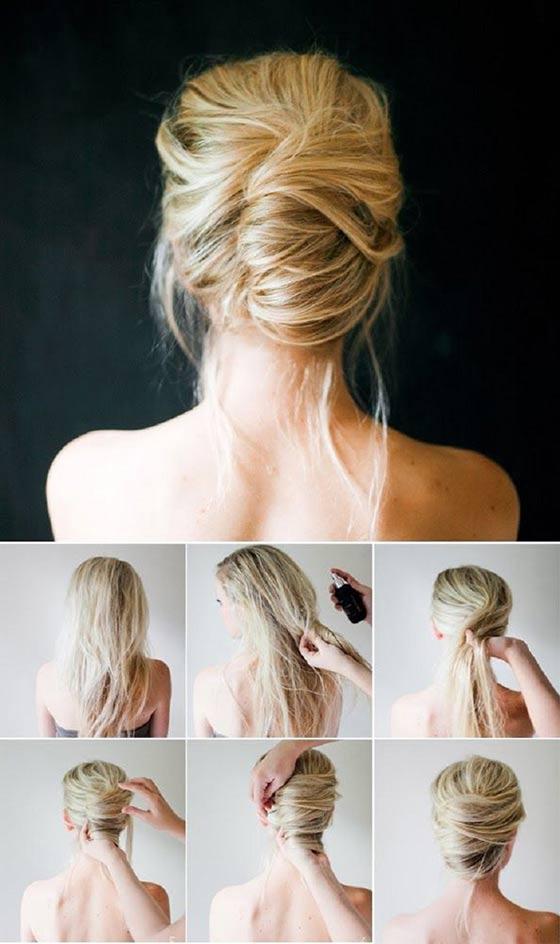 What You Need
Light hold hairspray
Hairbrush
U-pins
How To Style
Brush your hair down to remove any knots.
Prior to styling, spritz on a little light-hold spray.
Bunch the hair up at the nape of the neck.
Coil the hair vertically.
Once you're done twisting the entire length of your hair into the bun, secure it with U-pins.
Finish styling with some more set spray.
2. The Three Ply Twisted Ponytail
To call this hairstyle offbeat would be an understatement. It is beautiful, delicate, and demure. Although seemingly complicated to the eye, it's very easy to achieve. This hairdo is perfect for daytime parties, brunches, and the like.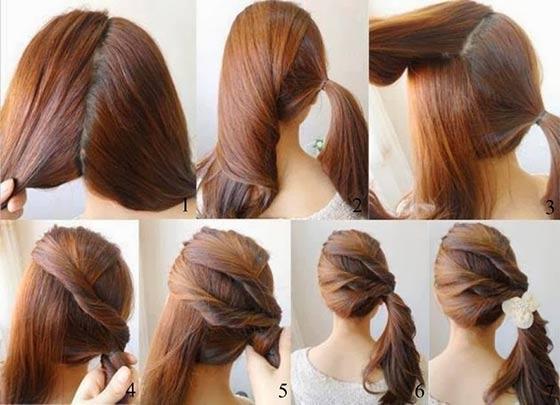 What You Need
Hair brush
Hair elastics
Booby pins
Hair scrunchy with a flower
How To Style
Gently brush your hair down.
Make a central partition to divide the whole volume of your hair into two parts.
Gather one section and tie it into a side ponytail.
Divide the other side into three sections from the top.
Twist each section individually and gather each section close to the side pony.
Secure all the sections together with the side ponytail using a hair elastic.
Now decorate the stylish hairdo with the floral hair scrunchy.
3. The Braided Chignon
The Chignon is easily one of the most elegant and graceful of hairdos. Very demure and feminine, chignons are perfect for summer day outs. You can also opt for a chignon on occasions like a wedding reception or a fancy, classy dinner!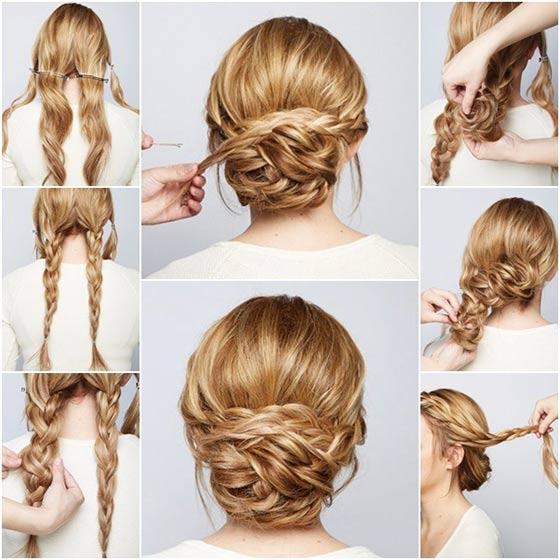 What You Need
Sectioning clips
Fine comb
U-pins
Bobby pins
Small hair elastics
How To Style
Comb your hair thoroughly to ensure that there are no knots.
Make a central partition.
Divide your hair into four sections – one thin section at each side of the head and two thick sections at the back of your head.
Separate all the four sections using sectioning clips.
Take a thick section, divide it into three equal sections and braid it into a regular braid.
Do the same with the other thick section.
Make sure you secure the ends of both braids using hair elastics.
Loosen the regular braids to give the chignon an airy look.
Start rolling one of the braids and pin it onto the back of your head using bobby pins.
Repeat the same with the second braid, but make sure your braids overlap each other at the back of your head.
Now coming to the thin side sections, braid them into regular braids that can frame your face.
Secure the ends with hair elastics.
Now wrap the thin braids around the chignon and secure with U-pins.
Secure flyaways with bobby pins.
Pull out a few thin loose strands for a more demure look.
4. Twisted Braided Bun
Another fun and totally Boho chic hairdo to sport. With summer at its peak, this hairdo comes as a savior. Very trendy and glamorous, this zero hassle is definitely going to be your best buddy real soon.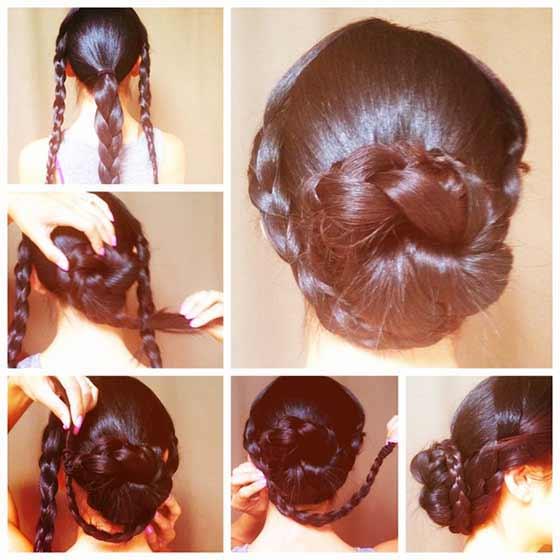 What You Need
Fine comb
Hair elastics
U-pins
How To Style
Thoroughly comb your hair to even it out.
Divide your hair into three sections; a thick middle section and two thin sections on each side.
Work the lengths of the side sections into braids.
Tie the middle section into a ponytail at the nape.
Braid the ponytail.
Wrap the central braid around itself as a bun.
Take one side braid and wrap it around the bun. Then secure the ends of the braid by tucking them into the bun with U-pins.
Repeat the same with the other side braid and your twisted braided bun is ready!
5. Coiled Top Knot
Very urbane and sophisticated, this hairdo can be sported for any occasion. Be it a formal meeting or a fancy dinner, this updo is only gonna add to the charm of your personal style.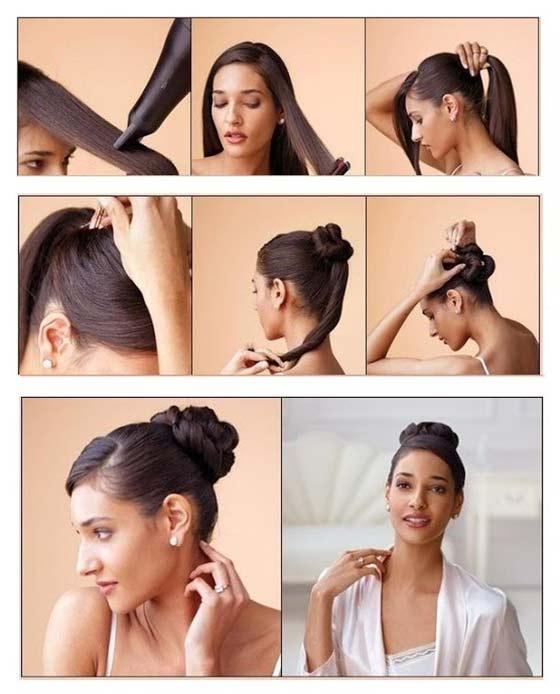 What You Need
Fine-toothed comb
Hair straightener
Hair serum
U-pins
How To Style
Apply optimum amount for hair serum to ensure heat styling doesn't damage your hair.
Straighten the length of your hair.
Finely comb through your hair to attain a sleek and smooth finish.
Make a side partition and separate a thick bang.
Gather all the hair at the back of your head and secure into a ponytail.
Now take the side bang and with a U pin, secure it alongside the ponytail.
Start twisting your hair and wrapping it to get a high bun.
Continue this till you have wrapped the entire length of the ponytail into the bun.
Secure the ends by tucking them into the buns using U-pins.
Finish with a light-hold hairspray to ensure there are no flyaways.
6. Side Braided Bun
Braids and buns are always fun! This hairdo fuses them together for a spectacular new style. It's very feminine and is perfect for occasions like weddings and receptions. It also earns extra brownie points for being manageable and hassle-free.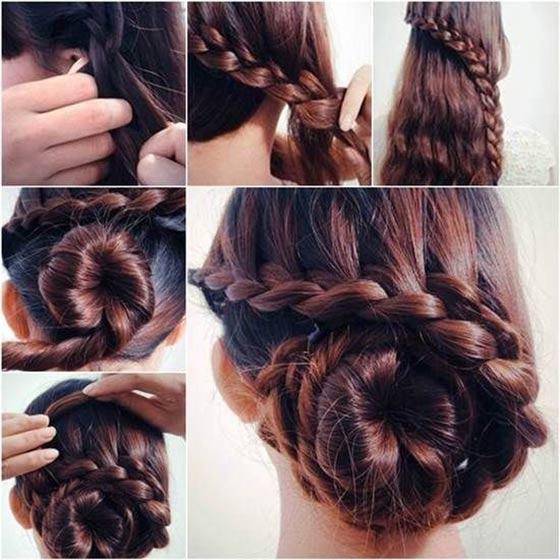 What You Need
Fine comb
U-pins
Light-hold hairspray
How To Style
Start by working your hair into a side braid on one side.
Gradually cover the crown with the braid in the waterfall style.
Once done, gather the rest of your hair and twist it into a bun at the back of your head.
Wrap the length of the braid around the bun.
Secure the bun with U-pins.
Finish with some light-hold hairspray.
There you go! Forty super chic hairstyles for girls with thick hair. Which one caught your fancy? Do let us know by commenting below.
Source: stylecraze.com